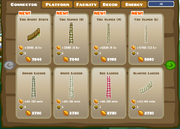 Connectors allow visitors to travel between platforms and facilities. They need to be connected correctly between two (or more) platforms to function.
There are a few types of connectors including:
To see which direction a connector goes, players can hover their mouse over the picture of the connector, which will cause a pop-up to appear. Some connectors such as the Brown Ladder do not need any materials to build, but more advanced connectors usually will. This is also shown in the pop-up.
Pages in category "Connectors"
The following 70 pages are in this category, out of 70 total.
B

C

D

F

G

H

J

K

K cont.

L

M

N

O

P

R

S

T

T cont.

U

V

W

X

Y

Z